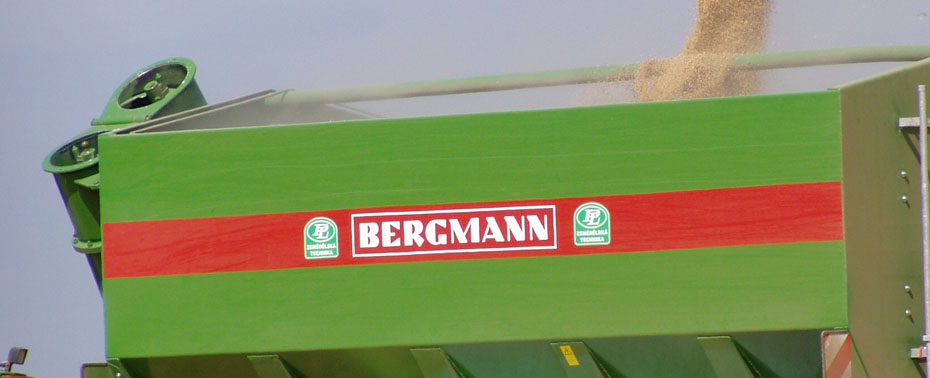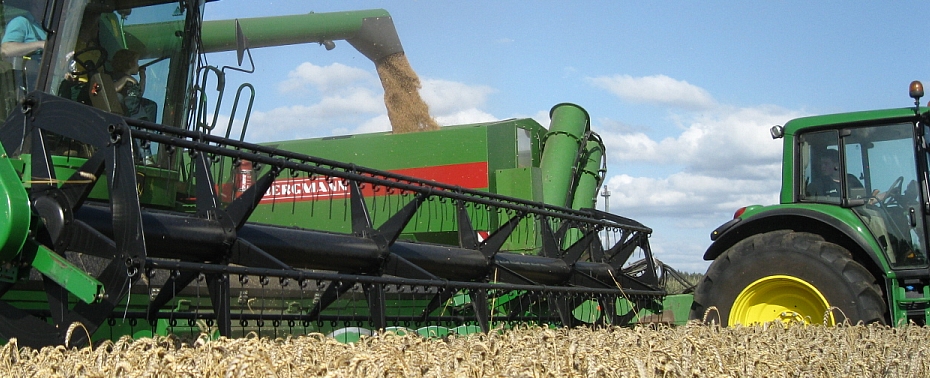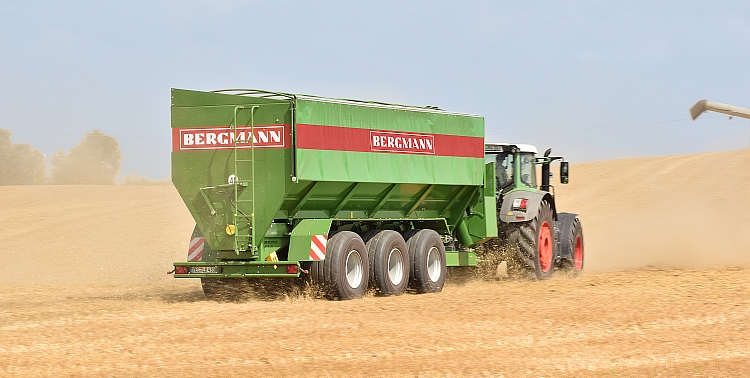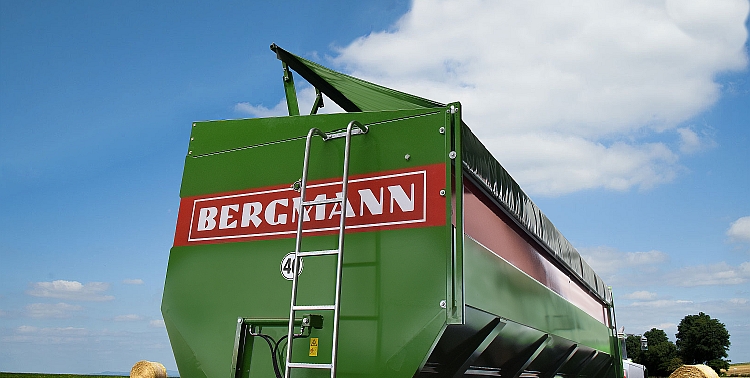 Grain Transfer Wagon
For better performance on the fields
The grain transfer wagon is the logistic link for grain transportation between the continuously moving harvester and the transport vehicles waiting at the edge of the field.
During the time that the GTW receives the grain, transports and transfers it, the harvester continue to work without interruptions. This significantly increases harvest productivity.
Our components are made of only the highest quality standard products. In this way, we can guarantee safety, dependability and durability - even under continuous load.
GTW 21
Technical Data
| | |
| --- | --- |
| Chassis: | standard chassis with DLB |
| Bin dimensions (length x width): | 4,800 x 2,550 mm |
| Vehicle dimensions | |
| Length: | 7,400 - 7,900 mm |
| Width: | 2,990 mm |
| Loading height: | 3,200 mm |
| Capacity(DIN): | 21 m³ |
| Max gross weight | |
| Road: | 12.,000 kg |
| Field use: | 21,000 kg |
| Transfer conveyor loading height: | 4,800 mm |
| Conveyor diameter: | Feeder conveyor 350 mm |
| | Transfer conveyor 400 mm |
| Power demand | |
| KW | 88 - 184 |
| PS | 120 - 250 |
GTW 25
Technical Data
| | |
| --- | --- |
| Chassis: | standard chassis with DLB |
| Bin dimensions (length x width): | 4,800 x 2,550 mm |
| Vehicle dimensions | |
| Length: | 7,400 - 7,900 mm |
| Width: | 2,650 - 3,000 mm |
| Loading height: | 3,320 / 3,740 mm |
| Capacity (DIN): | 21/25 m³ |
| Max gross weight | |
| Road: | 20,000 - 21,000 kg |
| Field use: | 24,000 kg |
| Transfer conveyor loading height: | 4,920 mm |
| Conveyor diameter: | Feeder conveyor 350 mm |
| | Transfer conveyor 400 mm |
| Power demand | |
| KW | 96 - 206 |
| h.p. | 130 - 280 |
GTW 330
Technical Data
| | |
| --- | --- |
| | GTW 330 |
| Chassis: | Tandem |
| Bin dimensions (length x width) | 6,760 x 2,490 mm |
| Vehicle dimensions | |
| Lenght: | 9,930 mm |
| Width: | 2,550 - 3,000 mm |
| Loading height: | 3,600 mm |
| Capacity (DIN): | 30/33m³ ** |
| Max gross weight | |
| Road: | 24,000 kg |
| Field use: | 35,000 kg |
| Transfer conveyor loading height: | 5,800 – 3,625 mm |
| Conveyor diameter | |
| Feeder conveyor: | 500 mm |
| Transfer conveyor | 600 mm |
| Power demand: | |
| KW | 132 - 257 |
| h.p. | 180 - 350 |
BERGMANN GTW 430
Chaser bin for the highest performances
Technical Data
| | |
| --- | --- |
| Chassis: | Tridem |
| Bin dimensions (L x W): | 8,500 x 2,490 mm |
| Vehicle dimensions | |
| Length: | 11,690 mm |
| Width: | 2,550 - 3,000 mm |
| Height: | 3,975 mm |
| Capacity: | 38,5 m³ |
| with body extension - optionally: | 43 m³ |
| Laterial loading height: | 3,600 mm |
| Ø feeder conveyor: | 500 mm |
| Ø transfer conveyor: | 600 mm |
| Overloading height | |
| max.** | 3,625 - 5,800 mm |
| max.*** | 3,150 - 5,625 mm |
| Overloading width | |
| max.** | 725 - 3,000 mm |
| max.*** | 1,315 - 3,325 mm |
| Overloading capacity: | 1,100 t/h |
| Net weight*: | 11,600 kg |
| Gross weight: | |
| - street: | 34,000 kg |
| - field: | 48,000 kg |
Click to view brochure
GTW Brochure